MetraSCAN 3D
Discover the fastest and most accurate 3D scanner and portable CMM for shop floor environments.
Faster 3D scanning
The MetraSCAN 3D features 15 laser crosses and a high measurement rate to accelerate 3D scanning processes. Thanks to quick setup and onboarding, real-time scans and ready-to-use files, your 3D scanning workflow will never have been faster.
- High measurement rate ~ 1,800,000 measurements/second
- Large scanning area for all types of parts ~ 15 laser crosses
- Ultra-quick setup ~ No warm-up time; users can be up-and-running in less than 5 minutes
Accuracy
0.025 mm (0.0009 in)
Volumetric accuracy
0.064 mm (0.0025 in)
Reliable acceptance tests
Based on VDI/VDE 2634 Part 3 standard ISO 17025 accredited laboratory
Shop floor accuracy with dynamic referencing
Measurement accuracy insensitive to environmental instabilities. High resolution. Measures all types of complex and highly detailed parts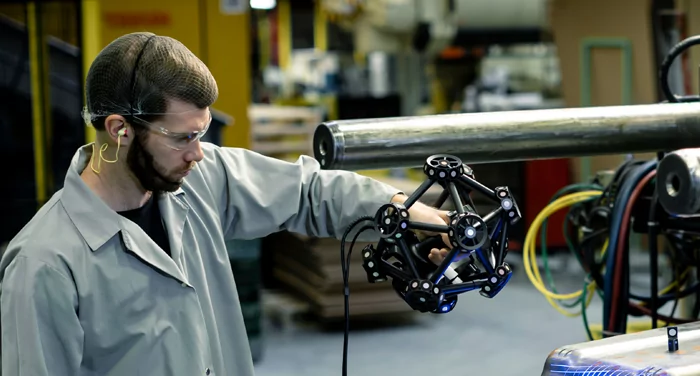 Technical Specifications
MetraSCAN 3D's innovative technology enables unprecedented accuracy, simplicity, portability, speed and efficiency for 3D inspections in your production environment. 3D measurements of a variety of complex parts, sizes, materials and finishes has never been this easy.
Can we help you with MetraScan 3D?